Ten To Go Hostel is located right next to Sants station, Barcelona's principal train station. From there, you will only be few stops away of all major Barcelona's tourist attractions, as well as all the outskirts such as Castelldefells beaches, the village of Vic and Sitges, Montserrat's monastery and many more! Sants neighbourhood is one of the most genuine and authentic neighbourhoods of Barcelona. It offers very nice places to chill-out, eat and drink
Closest Landmarks Condal Theatre 0.1 km El Molino 0.1 km Tantarantana Theatre 0.3 km Victoria Theatre 0.3 km Sala Apolo Nightclub 0.3 km Barts 0.4 km Paral·lel 0.4 km Apolo Theatre 0.4 km Llantiol Theatre 0.6 km Sant Antoni Metro Station 0.6 km
The hotel is amazingly near to the train station, so it spares me from searching the map and also getting up too early to catch up the train. The public space is delicately decorated, everything is clean and agreeable. Even though the breakfast is not included in the price, the free cookie and drink can recompense also. Besides, the most satisfied part is the privacy place in the dorm. I feel safe and conformable with my own space, which is not always the case in the youth hotel. HIGHLY RECOMMENDED
Auberge calme, propre, le personnel de l'accueil très gentils et à l'écoute. Cadre sympas avec le patio extérieur. A proximite du la gare, métro et stade. Très bonne auberge
Super séjour , super auberge
Estuvimos genial! Los de recepción amables, dormimos genial. Hay cafés, zumos, galletas gratis. Buen precio
L'auberge Ten To Go est sans aucun doute la meilleure auberge de Barcelone. Elle est super propre et bien entretenue par le personnel vraiment impliqué, et offre de nombreux équipements. Cela permet de se sentir comme chez soi et de faire en plus de supers rencontres. L'ambiance est vraiment agréable et au niveau dortoir l'intimité est respectée donc gros point fort ! Le séjour a été parfait du début à la fin et je la recommande à toute personne de passage sur Barcelone !!
10/10
Très bien! Personnel sympa, bonne ambiance. Néanmoins auberge pas très grande et plus chère que d'autres, mais bien placée.
Si tu aimes les petites auberge , etre comme à la maison, alors tu es au bon endroit. J'ai passé un bon séjour dans cette petite auberge de jeunesse, tout, tout, tout est pris dans le prix du début que tu paye (draps, placard, serviette, savon, petit déjeuner, cadnas, et même des pommes offertes !) , on peut parler avec les gens facilement et le personnel est disponible, accueillant et agréable.
Bien située ; proche du métro, des lignes de bus et des principaux lieux de tourisme . Confort : sommaire mais établissement PROPRE ++. chauffage par contre inexistant.. douche bof car débit d'eau insuffisant. Le petit déj est certes compris mais 'industriel' : dommage. La literie mériterait un petit coup de neuf ; ainsi que certaines prises de courant et interrupteurs... Le personnel est par contre vraiment TOP, à l'écoute et serviable!! sa présence 24H24 est un plus rassurant.
Auberge Sympa
Hostel One Sants is an easy 12-minute walk from Sants Station, the main train station in Barcelona. We are also very close to Camp Nou, Barca´s football stadium, and near Montjuic, Barcelonas largest mountainous park.
Located walking distance to many of the main sights such as La Rambla, Montjuic & the waterfront. We are also next to the super efficient metro of Barcelona, so it really is the perfect place to call home whilst you explore our beautiful city.
Buen ambiente pero muy sucio
très chouette auberge, personnel très sympathique, satisfait de notre séjour
L'établissement est cher pour une auberge avec si peu de service
Almost everything !
Séjour génial
Everything really. Has a close community feel and they provide a free dinner for everyone to socialise and then a night out if you want to. Staff very friendly, amenities good, great food and bars nearby and not too far from anything. I'd definitely recommend this place and wish I had stayed longer!
If you begin your trip in Barcelona at any other hostel then Hostel One Paralelo, you have already missed an amazing opportunity and a stay of a lifetime. This is by far the best hostel I have ever been to. The memories I have made there are, and will continue to be, one of the greatest times I have ever been afforded. A+ Staff and Employees: Thru the course of my stay the staff was not only my help in the city traveling alone, but became friends I will always cherish. They truly are and hire genuine individuals who are positive, caring, lighthearted, and people filled with integrity. Mauro, Natasja, Milito and Angel (not to forget anyone) were incredible to know and made my stay effortless and extraordinary. A+ Sleeping Area: The beds and halls were always clean and were cleaned daily. Noise is contained downstairs and sleeping is never a problem. The beds were exactly what you need, the showers warm up incredibly fast. It is a very safe environment, for your belongings and yourself. I made incredible connections with everyone I bunked next to. A+ Common Area: The main hangout area promotes a sense of community and family, but mostly importantly, comfort. You meet as many people as you want or don't want. The quality of the people staying there was only enhanced by the hostel's environment, easily made in the common area. There are 3 hi speed computers available and plenty of space to hangout and relax, including an outside patio and couches. A+ Food: The biggest surprise and delight was the food offered at Hostel One Paralelo. I made sure not to miss the FREE dinner each night (based on tips). Always so hardy, flavorful and enough to go around. Being a picky eater, I never had a problem with what they had and loved it every night. Breakfast in the morning for 2 euros is equally as nice. Coffee, croissants, omelette, muffins, and more. A+ Nightlife: What is a better way to get to know the amazing individuals staying around you then amazing excursions offered every single night for free. The whole hostel goes out to incredible bars and clubs that exceed everything you know about conventional places. You never have to worry about being lost or inebriated in the city because of the family of the hostel and the care they use to escort you around to the best places Barcelona has to offer. And yes, Barcelona has some of the best places to offer in the world. Mauro is the man as the whole hostel is privileged to get into places often skipping lines and cover.
This is by far the best hostel I´ve ever stayed in! Indeed a party hostel. The hostel is near by to a bus stop and a metro. The staff were awesome. The hostel had a great atmosphere. They put on a free dinner for the guests (with sangria!!!) which brought everyone together so I was able to meet other people really easily. The staff then took all of the guests out for an awesome night.
Staff is amazingly helpful and friendly. Great location, great atmosphere, free dinner every night and always a party planned!
We are located near the Sants train station and the L1/L3/L5 metro lines, a perfect location for sightseeing throughout Barcelona and nearby. The historic centre of the city and Plaça Catalunya can be reached in around 10 minutes by train. Camp Nou, Plaça Espanya, Poble Espanyol, Palau Nacional, and CaixaForum are all just a 20-minute walk away. While Sagrada Familia, La Pedrera, Casa Batlló, Port Vell, and many other sights are within a 15-20 minute metro ride from the hostel.
Personnel disponible. Chambre confortable, insonorisées et propres. Espace cuisine et terrasse peut mieux faire mais correct. Super emplacement à côté de tous les transports en commun. Quartier sympa et vivant.
El hostal está justo al lado de la estación de Sants lo que es bastante bueno, ya que comunica a la perfección con todo. El trato desde el primer momento fue muy bueno y las instalaciones están bien, el lugar es acogedor. Lo único a lo que le pondría un poco de pega es que la seguridad de las taquillas con las tarjetas que te dan no son muy seguras, ya que sin querer nos dimos cuenta de que se podían abrir otras taquillas con tu tarjeta...
El sitio está bien ubicado junto a la estación de Sants, la habitación limpia y el aire acondicionado se agradece. Lo mejor la recepción. El chico que nos atendió fue muy amable y le daba carácter al sitio. Estaba muy bien de precio
Todo estuvo perfecto , limpieza ,atención etc.
Hostelli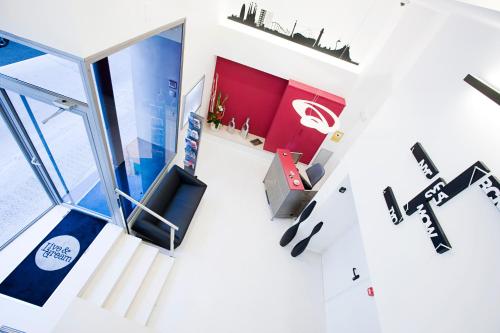 Live & Dreamin kaikissa tiloissa on minimalistinen valkoinen sisustus sekä värikkäät vuodevaatteet ja kalusteet. Tämän tyylikkään guesthousen kaikissa tiloissa on ilmainen WiFi ja internetyhteys.
Hostelli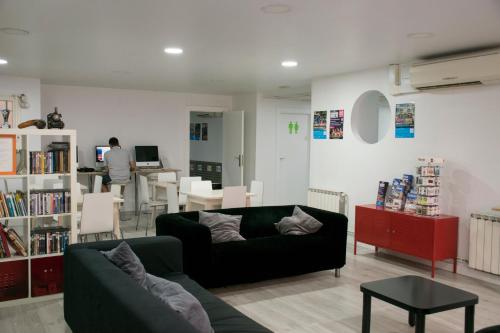 Alberguinn on vain 5 minuutin kävelymatkan päässä Barcelonan Santsin asemalta ja 15 minuutin päässä FC Barcelonan Camp Nou -kotistadionilta. Se tarjoaa 24h-vastaanoton ja moderneja makuusaleja, joissa on ilmainen Wi-Fi.
Hostelli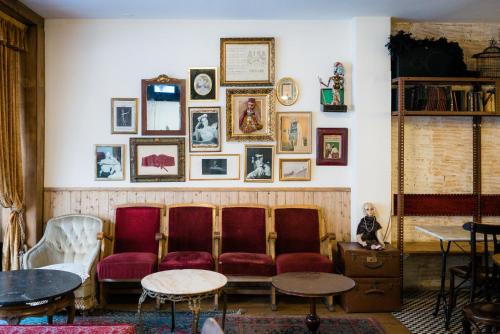 Pars Teatro Hostel sijaitsee vain 5 minuutin kävelymatkan päässä Barcelonan satamasta ja kuuluisalta Las Ramblas -kadulta. Majoituspaikassa on 24h-vastaanotto ja ilmastoituja makuusaleja, joissa on ilmainen WiFi ja henkilökohtaiset kaapit.
Hostellin omistajat ja johtajat
Rekisteröi hostellisi nyt upouudessa Extranetissämme.