Pysy Safestay Hostel Lontoon elefantilla ja linnoituksella, ja löydät Big Benin ja parlamenttitalot, London Eyen, Oxford Streetin ja Leicester Square -aukion alle 15 minuutissa. Tate Modern, Kansallisteatteri, Imperial War Museum, Lontoon akvaario, London Dungeon, Shakespearen Globe-teatteri, Kia Oval ja kuuluisa Sound Ministry ovat kaikki 1,5 kilometrin päässä hotellista.
Located in central London we're only a short walk from the London Eye, Tower Bridge and the London Dungeon. The London Bridge tube station and Borough Markets, one of the best and most extensive food markets in London are right on our doorstep. You can also take a stroll along The River Thames and beyond to take in St Paul's Cathedral, Tate Modern Gallery, OXO Tower, Gabriel's Wharf, the British Film Institute, the Southbank Centre, the London Eye and the Houses of Parliament.
J'y suis allée deux fois et j'y retournerai, c'est très bien placer, propre et pas très cher. Les lits sont très confortables, les chambres agréables et le personnel très gentil. Seul regret pas de moyen de cuisiner ou entreposer sa propre nourriture mais bon c'est pas le plus important car il y a des commerces et des restaurants partout et on peut toujours manger dans le salon d'entrée. Je recommande à 100%!!
super auberge où on peut faire de très belles rencontres, bien placée et idéale pour les petits budgets.
Nous avons séjourné avec nos 2 petits-enfants. Tout s'est déroulé comme prévu. La chambre à 4 correspondait à notre attente. Le personnel compétent, jovial nous a donné les conseils auxquels on s'attendait. Grosso modo absolument rien à redire, au contraire.
super accueil, les chambres et les sanitaires sont propres, les lits confortables.
Auberge très propre !! Chambre superbe, les douches et sanitaires sont bien entretenus, rien à redire. le personnel est là pour nous. Seul point négatif, le prix du petit déjeuner est trop cher...
Pour le court séjour que j'ai effectué cet auberge me convenait parfaitement. Située a proximité du centre de Londres elle permet de visiter la ville à moindre frais. C'est l'endroit idéal pour faire du tourisme.
c'était excellent
Extrêmement bruyant pour une famille avec enfants
Très bon accueil, malgré une arrivée tardive (2h30 du matin). Le personnel est très agréable et souriant. Belle chambre, propre, ainsi que la salle de bain. Des offres sympas pour le restau et le bar de l'auberge + des animations musicales tous les soirs. Nous avons passé un excellent séjour!
The hostel is okay if you don't mind sleep in 3 to 4 tier bunk beds. The location is pretty convenient well located in central London, walking distance to London Bridge station it is very close to the London Bridge Borough Market. There is also a bar downstairs where you can definitely meet a lot of people. The bar and hostel is often frequented by fellow travellers and youngsters so expect it to be a little bit noisy and rowdy on the wee hour of the morning.
Located in the heart of the city, we're only a short walk from the London Eye, Tower Bridge and London's biggest food market, Borough Market. With the hostel being 2 minutes walk from TWO tube stations, getting around the city doesn't get much easier.
Tower of London is 1.1 km -, while Tower Bridge is 1.2 km away. London City Airport is 10 km from our hostel. Southwark is a great choice for travellers interested in city walks, monuments and culture.
Super emplacement, bar juste en dessous de l'auberge donc un peu bruyant
Bon séjour. L'auberge est très bien située par rapport au centre ville de Londres
The hotel is in great location, great food, bar down stairs, nice room and renovated bathrooms. Friendly staff too!
The hostel is very clean. There's a bar on the bottom floor. Large lockers available to safely store your luggage. Breakfast is pleasant. Worth it to spend and stay here.
Je me suis fait voler mon ordinateur dans une chambre mixte avec 12 lits. Pour 10€ de plus la nuit j'aurais pu avoir une chambre à 2 et plus sécurisée. C'est en partie de ma faute. La chose qui m'a le plus dérangée c'est que les personnes de l'accueil n'ont rien mis en œuvre, rien fait pour m'aider, c'était vraiment lâche et malhonnête.
The property was very clean. Loved the location, very nice neighborhood, enjoyed walking. Staff were friendly and attentive. Thank you.
Clean and comfy beds, great location, nice staff, good food and location. will recommend.
Hostelli
St Christopher's Inn Oasis - London Bridge sijaitsee Lontoossa 700 metrin päässä London Bridgeltä, ja se tarjoaa ravintolan ja baarin. Kaikki huoneet on tarkoitettu vain naisille, ja niihin kuuluu jaettu kylpyhuone.
Hostelli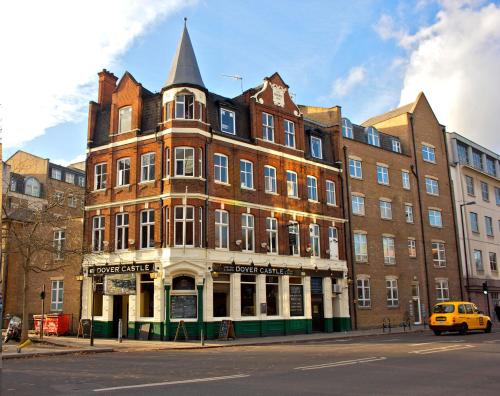 Welcome to The Dover Castle Hostel and Bar, providing backpackers and students with great value accommodation and entertainment since 1985. Whatever your circumstances, we will supply you with all you need to experience the best of London.nnValue rooms starting from...
Hostelli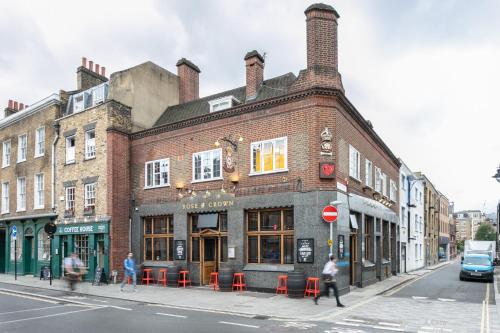 Vain aikuisille tarkoitettu PubLove @ The Rose & Crown sijaitsee Lontoossa. Majoituspaikassa on ravintola, baari ja terassi. Majoituspaikan palveluihin lukeutuvat 24h-vastaanotto, retkipalvelu ja ilmainen WiFi.
Guest house
Tämä tyyliltään espanjalais-amerikkalainen boutique-hotelli sijaitsee Camberwellissa, ja sieltä pääsee helposti bussilla Lontoon keskustaan. Hotelli tarjoaa ilmaisen WiFin, itsepalvelubaarin sekä viehättäviä huoneita.
Hostellin omistajat ja johtajat
Rekisteröi hostellisi nyt upouudessa Extranetissämme.